How the Mercedes-Benz R107 Convertible Roadster Became an Automotive Icon
by Jason Paige Dumont, edited by Sheila Heaney

How many automobiles have such a pleasing, classic silhouette that they enjoy an eighteen-year model run with only a few minor cosmetic changes? Not many. The Mercedes R107 SL is one of these classics. In fact, engines and engine size changed more than exterior styling or interior accoutrements. A host of different numeric badges may have graced the trunk lid, but the R107—along with its sister chassis the C107 hard-body coupe—remained virtually unchanged during its 1971-1989 production run.
Collaboratively designed in the late 1960's by Friedrich Geiger and Joseph Gallitzendörfer for Mercedes-Benz, the R107 began production in 1971, and impressed its stamp on the automotive landscape until 1989, when it was retired and replaced with the R129 chassis. Geiger's influence on Mercedes automobile designs was already impressive, penning the 500K roadster, the 300SL Gullwing, and the predecessor to the R107, the W113 Pagoda.The first chassis officially badged as S-Class, the W116 was also a Geiger creation, and some of the design elements are shared by both, giving them the appearance of siblings.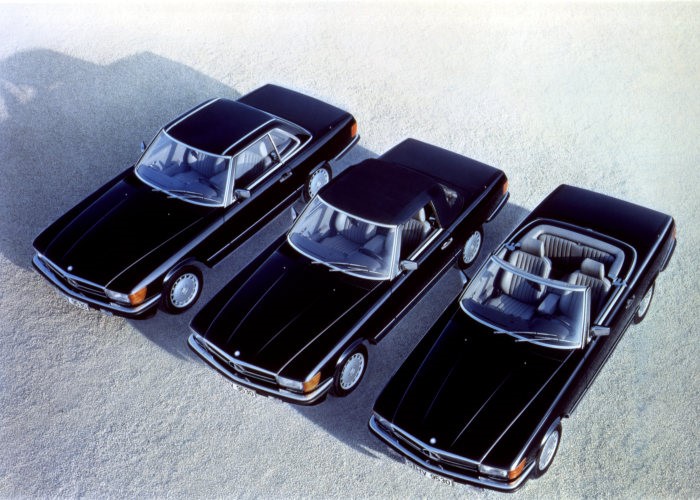 Here in North America, the available engines included: the 190/180 HP 4.5L M117 V8 produced in the 450SL and 450SLC (1972-1980 model years - although badged as 350SL the first model year and changed in 1973), the smaller, lightweight aluminum 3.8L V8 M116 with 155 HP offered in the 380SL and 380SLC (model years 1981-1985), and finally, the largest and most powerful engine offered in the United States, the 5.6L M117 in the 560SL (model years 1986-1989) which produced 227 horsepower. The 560SL seems to be the most sought after by collectors because of the engine output and thus they bring a higher price; for those who are just looking for a comfortable cruiser that is a joy to drive, the other engines would serve just as well. It's the charm and nostalgia for these cars that is, above all, what Mercedes enthusiasts and collectors seek.
Though the engines may have changed during the R107's long production run, the design itself remained almost completely unaltered. The fact that an automobile can coast beautifully for nearly two decades with almost no alteration in design and appearance is testament to its timeless appeal. In 1980, the detachable hardtop, previously an option, became part of the R107's standard equipment, now giving the owner the optional convenience of both a drop top convertible or a hardtop, two door coupe. As the 1980's progressed, a few minor changes such as alloy wheel style, flush mount door handles, and rear mounted center brake lights were the only real cosmetic exterior changes that would have set the later models apart from their older brethren.

What exactly makes the R107 Mercedes so unique? It wasn't the sportiest or fastest roadster conceived and produced.In fact, compared to many other two-seaters manufactured before or after, the R107 can hardly be described as sporty or fast.But then again, it wasn't really meant to be, was it? It's a Mercedes Benz after all, and prestige of pedigree requires little need for deliberate superlatives.What the R107 roadster WAS, was a celebrity in its own right. The onset of the 1980's in America saw the emergence of a new kind of social class: upwardly mobile professionals, and a new generation of wealthy. By 1983, the economy had rebounded from the recession; consumer confidence was high, and people wanted to be a little more conspicuous in their success. The Mercedes R107 seemed tailor-made for this new era—a symbol of prosperity. On television and the big screen, the R107 seemed to be everywhere; affluent, fictional characters of both venues were seen driving shiny R107 roadsters. It became one of the prestige cars to own in the 1980's, costing roughly $42,000 dollars in 1983 currency—three to four times the cost of the average car in America. It was a car for the elite and had a carefree, frivolous soul. If you think of Beverly Hills, Palm Beach, or the Hamptons, this is the car you could imagine cruising down the street. This car unmistakably, but with quiet, Teutonic understatement, said "I've arrived" for the driver, in more ways than one. It was not meant to be overly fast or flashy, but rather exuded an air of high quality and class in an imposing, but curiously non-threatening way. Of all the automobiles Mercedes produced, this one is possibly the most recognizable and familiar. If you were to ask most people, especially those who were not enthusiasts and familiar with the succession of Mercedes models, what car they came to mind when they thought of a Mercedes-Benz, there's a good chance most people would respond with something like, "That two-seater convertible I remember from 'Dallas', I loved that car."
Status symbol aside, what made, and continues to make the R107 Mercedes so appealing to buyers loyal to the brand? Despite what many people may think, we're actually a very practical, even frugal breed. Sure, the three-pointed star hood ornament on many a Mercedes is something to make us smile, but we're also cognizant of the safety and quality of these cars and we love the simplicity of the R107 and many of the other models of its generation. Like most vintage Mercedes, the R107 SL is a perfect balance in offerings; it has everything you need, and nothing you don't. It contains just enough in the way of accoutrements to feel luxurious, but nothing to make it feel complicated or excessive. Although the R107 is a smaller-sized convertible roadster, safety was built into it with as much thought and care as any other Mercedes-Benz.A specially-reinforced A-pillar and windscreen, crumple zones, a gas tank mounted above the rear axle out of the way of the rear crumple zone, a collapsible steering column, padded wheel and dash, and later, Anti-lock brakes, were designed into the R107. Even the ribbed taillights and wraparound turn signal indicators were designed with safety in mind.Build-quality was evident in the materials used; heavy chrome accents, burl wood and leather. These automobiles were built for a discerning kind of customer, and Mercedes-Benz was very much aware of that fact, making sure the finished product wouldn't disappoint. Americans in particular were conscious of these niceties, and since two-thirds of all R107's built were exported to the United States, Mercedes knew that fit, finish, and quality were attributes that would continue to set them apart in the vast American automotive market, where choices were many.
So, when did the R107 cross over the threshold of a status car for the well-to-do and into the realm of a classic collectible? I suppose it could be argued that in a very real sense, the R107 was a classic from the beginning, bound for collectible status. For Generation Xers such as myself who grew up during the heyday of the R107's popularity, when it graced the roads with sleek, horizontal beauty, the R107 is a nostalgic trip back in time. We remember seeing it on television, had the Matchbox car and dreamed at the age of twelve of one day owning one ourselves… and now realize that quite realistically, we finally can. With a grand total of 237,287 R107 SL vehicles produced by Mercedes-Benz during its eighteen-year run, there are many out there to choose from and the price range is wide and varied. For those who have the gift of mechanical talent, you can pick one up for as little as $5000-$6000, put some time and sweat equity into it, and end up with a very decent car to drive on the weekends. Others with less know-how or just deeper pockets can find good examples anywhere from $10,000 up to over $30,000 for a low mileage, pristine R107 of almost show quality. The one thing that all Mercedes-Benz R107 owners have in common is their love for a beautiful build and design that has not only stood the test of time, but has immortalized itself in the automotive firmament as one of its brightest stars—a bright, three pointed star.